PayPal is offering digital iTunes gift cards with a 10% to 15% discount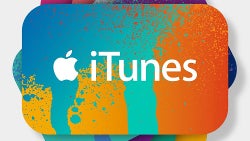 From now until December 30th at 12:59am Pacific Time, you can save 10% on iTunes gift cards by purchasing them through PayPal. A $25 gift card is $22.50, a $50 iTunes gift card will cost $45, and a $100 card is just $90. Actually, calling these gift cards is a misnomer since those purchasing them will be receiving an e-card by email instead of a physical card.
A limited quantity of cards at this pricing is available. We are only the messengers here, so don't get mad at us when we tell you that the 10% discount is available in the U.S. only. The gift cards can be used only on the U.S. iTunes store to pay for an Apple Music subscription, iBooks, movies, apps, games, television shows and more. They will work on the iPhone, iPod, iPad, Apple TV, Macs and PCs.
But hold on a second there, partner. PayPal's eBay storefront for digital gift cards has a better deal! You can purchase a $50 iTunes card for $42.50. That works out to a 15% discount, or a 50% better deal than the one we mentioned above. Similar to the first deal, buyers will receive a digital version of the card. And there is also a limited number of cards available to be sold at this price.
If interested, click on the appropriate sourcelink.
source:
PayPal
,
eBay
via
MacRumors