PUBG Mobile developer reveals The Walking Dead crossover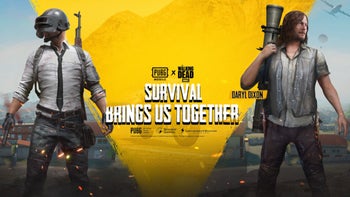 PUBG Mobile developer has just
announced
a crossover with AMC's The Walking Dead, which will bring some of the series iconic characters to the game. Starting today, October 1, PUBG Mobile players will be given the chance to obtain skins for Rick, Daryl, Michonne, and Negan.
Besides new The Walking Dead characters, the crossover will also add Dary's motorcycle, Michonne's katana and Negan's barbwired bat, Lucille. Since this is a limited-time event, you'll have until early 2020 to collect them, but if you're a fan of The Walking Dead series that should be enough time to get them.
To win some of the new skins, players will have to complete in-game challenges, but they can also be bought via in-app purchase. The crossover is meant to promote the Season 10 premiere of "Walking Dead," which is set to debut on October 6, on AMC.
This is not
PUBG Mobile
's crossover, as the developers previously teamed up with other game and movie producers to bring content from Resident Evil 2 and Godzilla: King of Monsters to their mobile game.