PC World names Android #1 in 2010
3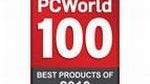 PC World
has released their Best Tech Products of 2010, and some familiar friends are topping the list. Coming in at #1 is
Android 2.2
, followed by the Apple iPad at #2, and then the Samsung Galaxy Tab at #5.
We all know and love Android 2.2: it has voice-command capability throughout the OS, and
Flash 10.1
support for a real browsing experience.
PC World
also touts Android for its competitive stance with Apple's iOS, and its rapid ascent to popularity. It also celebrates how customizable Android is, as well as the wide variety of devices available.
The Apple iPad gets a well-deserved second place, and is credited with starting the tablet revolution. We tend to agree, the iPad has revamped the market that was once filled by clumsy tablet PCs and lackluster netbooks. It has also inspired an impending plethora of OS competitors from Google,
Microsoft
,
RIM
, and more.
Fifth place was awarded, somewhat surprisingly, to the Samsung Galaxy Tab. Don't get us wrong, though. It's only surprising because the Galaxy Tab is so new to the market.
PC World
describes it as "the iPad for the rest of us."
Other mobile-related winners include the Samsung Epic 4G at #8, the Apple iPhone 4 at #13, the HTC HD7 at #15, and the Motorola DROID X at #25. Click the source link below to check out the full list.
source:
PC World
via
AndroidGuys