PC World says AT&T best in 3G performance tests
This article contains unofficial information.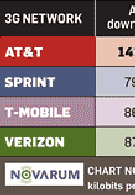 Last Spring, AT&T finished with the lowest average download speed in PC World's test of 3G network performance. Since then, the carrier has worked hard to improve coverage and speed. This has meant so much to the company that we wouldn't be surprised to hear that Luke Wilson was hammering in some cell towers on some quiet back road highway in the middle of the country. Regardless of the mechanics behind the turnaround, AT&T improved its download speed by 84% from the prior test and had download speeds that were on average 67% faster than Verizon, Sprint and T-Mobile. The actual number from the new test was an average download speed in kilobits per second (kbps) of 1014 compared with the 818 of last Spring. Those results are compiled from tests of 13 cities and are the product of connecting with both a laptop and smartphone in each city.
AT&T has said that it was concentrating on improving the network in cities like New York and San Francisco, two mecca's of heavy smartphone usage. In the Big Apple, AT&T's average download speeds were 3 times faster when compared to the previous results. In San Fran, the carrier's average download speed was 40% faster than from the Spring. Obviously, someone is doing something right. The network's reliability also improved. Last Spring, PC World could get a usable connection from AT&T only 68% of the time. That figure rose to 94% with the new tests, which tied for first place with Sprint. T-Mobile and Verizon each had a 92% reliability figure in the tests. For those who have been complaining about AT&T's 3G network, it seems that the carrier has heard you and has made some serious corrections.
source:
PCWorld