Ouya console torn down: extremely easy to take apart and repair
2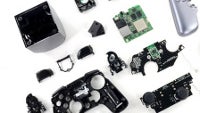 The Ouya is a different kind of a console - it tries to leverage the mobile app boom and bring those apps to your living room in an open fashion that allows all developers to participate. But what about the actual console itself? The Ouya is already up for pre-order for $99.99 and it is coming to store shelves in less than a month on June 4th, but device surgeons from iFixit already got a hold on one.
They tear it down of course and find it is extremely easy to take apart and repair. There is a lot more interesting on the inside like the fact that the Ouya is probably the only device we know that uses metal weights to actually weigh more and stay solid.
The only modular part in it is the fan but that's perfectly fine as it is also the one moving part that will need changing and it is easy to do so. All in all, taking the Ouya console apart is a fairly straightforward task, take a look at the step by step instructions right below.
source:
iFixit