Oppo launches the N1 mini in Malaysia, 24MP Ultra HD mode and swiveling camera on board
5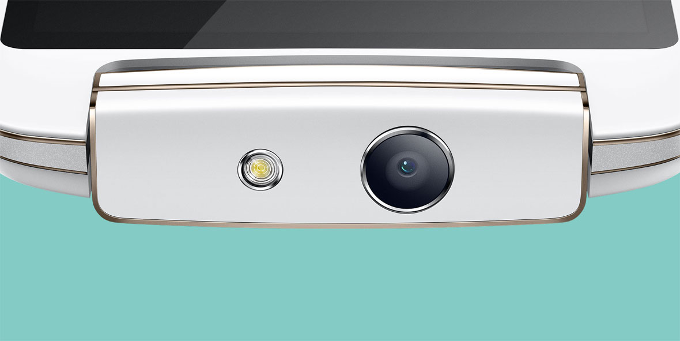 Oppo officially
confirmed its plans to release a "mini"
version of its
Oppo N1
behemoth in the end of May, but afterwards remained mum and did not reveal much about the phone in the following months. Apart from the exterior design (which is completely identical to the one of the
Oppo N1
), only
rumors and speculations fueled
our hunger for the hardware specs of the N1 mini. Well, it seems that the secretive Oppo has, in fact, silently released the
Oppo N1 mini
in certain markets, such as Malaysia, just a few days ago.
Being a toned-down variation of the Oppo N1, the N1 mini totes a smaller, 5-inch display (the N1 comes with a colossal 5.9-inch one). The screen has also seen some downward adjustments – it's resolution is 720 x 1280 pixels, unlike the Full HD display of its bigger brother. This endows the N1 mini with a pixel density of 294ppi, which is somewhat acceptable, but nothing to write home about.
A quad-core Qualcomm Snapdragon, bustling at 1.6GHz, is keeping the clocks and gears of the Oppo N1 mini operational. This is a minor downgrade from the quad-core Snapdragon 600, running at 1.7GHz, which can be found in the N1, but most users would probably feel no drastic difference between the two devices in terms of pure performance. Similar to its bigger peer, the N1 mini also comes with 2GB RAM, 16GB of on-board storage, and a microSD card slot.
The smaller size of the Oppo N1 mini has affected the size of its battery, however. Unlike the N1, which has a stellar 3610mAh juicer under its hood, the N1 mini sports a 2140mAh one. The relatively older SoC and the HD display shouldn't draw a lot of energy, but we wouldn't expect the device to have anything close to the spectacular battery life of the Oppo N1. Oppo's newest smartphone is running ColorOS UI, a modified version of Android 4.3 Jelly Bean.
In the camera compartment, the N1 mini is pretty much on par with the N1. It's equipped with a 13MP swiveling snapper, a dual LED flash, an f/2.0 aperture, and most of the software goodies of N1's camera on board. One of the few differences is in the sensor size – the Oppo N1 has a 1/3.06" sensor, while the N1 mini comes with a 1/3.2" one. But the N1 mini has some aces up its sleeve, too – its camera is endowed with a 24MP Ultra HD Mode, which works in a similar fashion to
Oppo Find 7
's
HD picture mode
.
As we mentioned above, the Oppo N1 mini is currently available in Malaysia and retails for RM 1,398, which translates to roughly $438. At the moment, it is available in white, cool mint, and "fresh icy blue". There is no official word whether the device will land on others markets, but it is
heavily speculated that it will
. Don't count that the pricing will be the same, though.
source: Oppo (
1
), (
2
) via
GSMArena