Opera updates its Android and iOS browsers with bitcoin mining protection
1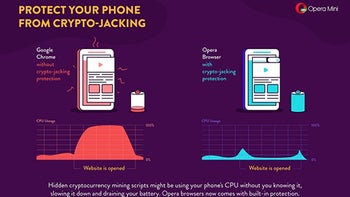 Three weeks after Opera added cryptocurrency mining protection to its desktop browsers, the software company announced a similar feature has been implemented into its mobile browsers.
Opera and
Opera Mini for Android
and iOS now benefit from full bitcoin protection with the latest update, the company confirmed earlier today. Here is how it works, as explained by Opera:
The new anti-cryptocurrency mining feature is activated by default when enabling the ad blocker on Opera Mini and Opera for Android. The ad blocker can be enabled in 'Settings,' and it will automatically detect and stop the mining scripts written into the coding of a webpage.
If you didn't know, scripts
mining for cryptocurrencies
like Bitcoin can increase your smartphone's CPU usage up to 100 percent, which can cause increased battery draining and make the device overheat.
Since there's no visual evidence that your smartphone is exposed to mining, Opera has created a website that can tell you if your device is affected by unwanted crypto mining. You can visit
www.cryptojackingtest.com
from your mobile or desktop browser and check if your device is mining cryptocurrency without you knowing it.