Opera tailors its browser specifically for Android tablets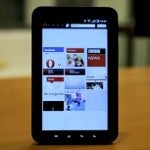 We are all waiting for Android
2.4
Honeycomb with baited breath here. Besides
rumored requirements
towards the hardware, Honeycomb's main feature is its tablet-oriented interface. Well, the team behind the Opera browser is never one to sit still, so it decided that something needs to fill in the void before the first Honeycomb tablets actually hit the retail shelves in the Spring.
The version of the Opera browser that is tailor-made for tablet screen sizes, has not yet received a full press release from Opera, just a video teaser where some smooth panning and zooming is demonstrated on a Samsung Galaxy Tab. The full disclosure of what exactly sets Opera for tablets apart, compared to, say, the stock Android 2.2 browser, will come at CES in the next days.
We are having eyes and years in Las Vegas, so we will update you as soon as we know more about the Android tablet edition of the Opera browser.
source:
Opera