Opera browser goes out of beta, now available on Android
11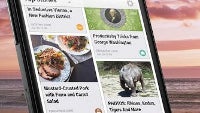 Opera has been on mobile devices almost since the dawn of the Internet and now Opera has finalized its WebKit-based Android browser and it is up for grabs on Google Play.
The Opera browser launched in beta in March after a huge unveiling at the Mobile World Congress. Back then it features some neat capabilities like a brand new UI and a Discover mode showing all interesting news articles that you might have missed. That is actually the headline feature and we found it very useful. The content you get there is curated by Opera and not just automatically generated.
Now, Opera gets even more customization options. You can have the navigation bar on the top or bottom, and can choose to go full screen. The browser also supports text wrapping.
Opera also comes with off-road mode compressing websites for data savings when needed. You can get it for free now on Google Play, check out the link below.
source: Opera