OnePlus 7 T-Mobile release date seemingly revealed, possible device specs too
1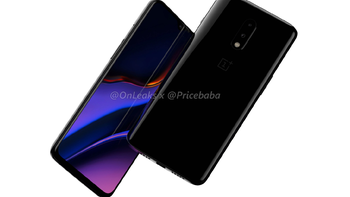 With just three weeks to go until the OnePlus 7's expected announcement on May 14th, tipster Ishan Agarwal has today shared some
new information
about the upcoming flagship.
The OnePlus 7 could also boast a 90Hz display
Courtesy of an unconfirmed source – some of the information could be inaccurate – it's claimed that the OnePlus 7 will follow in the
OnePlus 7 Pro's footsteps
by adopting a new 90Hz display. As revealed previously by renders, this updated panel won't sport curved edges but the higher refresh rate should still result in smoother animations. Alongside this, it's worth pointing out that the feature could drastically improve the gaming experience when it comes to apps that support higher refresh rates than the 60Hz standard.
Like the OnePlus
7 Pro
, the regular OnePlus 7 is expected to feature an AMOLED panel. This means the smartphone will be capable of reproducing deeps blacks and more saturated colors. However, the maximum brightness of the OnePlus 7's display is now expected to be slightly lower than that of its Pro sibling.
Concrete battery specifications are yet to be revealed, but the updated display is largely expected to arrive accompanied by a 3,700mAh battery. This, according to today's info, will be backed up by the new 30W Warp Charge tech rather than the standard 20W charging supported by the
OnePlus 6T
.
48MP+24MP dual-camera setup on the rear

Joining the features mentioned above will once again be a single selfie snapper and a dual-camera setup on the rear. Details about the former are yet to be revealed, but the latter was previously said to include a 48-megapixel primary camera. This, according to today's info, will then be accompanied by a 24-megapixel sensor.


The exact functionality of this second camera is yet to be revealed, but it will most likely be a dedicated depth sensor. After all, if OnePlus were to include a telephoto or wide-angle camera it'd most likely be borrowed from the premium OnePlus 7 Pro, which isn't the case.

The OnePlus 7 Pro, for those of you that aren't aware, will also feature a 48-megapixel camera as its primary sensor. However, this time around it should be accompanied by an 8-megapixel sensor paired with a telephoto lens that'll support 3x optical zoom and boast an f/

2.4

aperture. Alongside this, the flagship is also expected to include an ultra-wide-angle camera that boasts a 16-megapixel resolution and an f/2.2 aperture.
OnePlus 7 T-Mobile release date and price
The OnePlus 7, as mentioned above, should be unveiled at an event on May 14th that'll be held simultaneously in New York, London, and India. This information is yet to be confirmed officially, but OnePlus is expected to publicly announce it
sometime tomorrow
.

In regards to the flagship's actual release, today's leak suggests the OnePlus 7 will be available to purchase globally starting Wednesday, May 22nd. However, T-Mobile customers in the US are expected to receive access to the smartphone shortly after the announcement on May 14th. It's unclear if T-Mobile has plans for any launch offers.

The OnePlus 7's pricing hasn't been revealed yet but the expectation is that it'll cost somewhere between $579 and $599. On a related note, it's suggested that the smartphone will be sold in a total of three colors.
Joining the OnePlus 7 will be the OnePlus 7 Pro. It's unclear if this smartphone will be made available to purchase via T-Mobile, but it has been confirmed in the past that OnePlus has no plans to release the 5G variant in the US.

Once again, pricing information is yet to be revealed, but the leaked spec sheet suggests it'll cost in the region of $699.