The OnePlus 6T price and memory configurations tipped, could be the most expensive OnePlus ever
14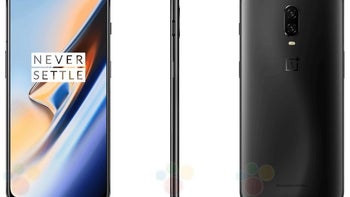 Тhe original
OnePlus One
launched at $299 and was an incredible value for its money then. Granted, flagship prices hadn't crossed the $1000 mark at the time, but still. The
OnePlus 6T
, however, started at $529, which was in its turn a price tag higher than that of its predecessor.
We already noted that the 6T might have
the largest retail and carrier presence for a OnePlus phone
yet, and that could reflect on its pricing, as the selling, general and administrative costs would inevitably increase, too.
Well, today's OnePlus 6T leak details all of its eventual at-launch storage versions and their pricing, so let's see if it is indeed more expensive than the OnePlus 6 again. The prices are leaked courtesy of an Indian retailer, so they are in rupees and we'd have to compare to the OnePlus 6 launch prices in India then.
The OnePlus 6 was launched there in May 2018, starting from Rs. 34,999 (~$477) for the base model. This is lower than the leaked Rs. 37,999 (~$518) base price for the 6GB/128GB OnePlus 6T, and is maybe a harbinger of higher prices in Western markets, too. The other two variants, with 8GB RAM and 128GB/256GB storage, are more expensive, too, compared to similar OnePlus 6 versions, at Rs. 40,999, and Rs 44,999, respectively.
Should the OnePlus 6T be priced higher, the honeymoon with Western users could be over and they would have to demonstrate they like the brand for the overall package on offer, rather than the rock-bottom pricing only. If we extrapolate from the leaked price bump in India, the OnePlus 6T in the US could still land below $600 for the base model, which is pretty good for what it will offer, compared to some other flagships out there.

Recommended Stories