OnePlus 3 gets another Android 7.0 Nougat beta update
1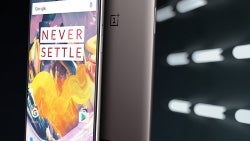 OnePlus has released an Android 7.0 Nougat beta update for the OnePlus 3. This is a minor release which contains a single new feature, along with the usual fixes and optimizations. Updating will get you the Data Saver feature, which will let you make the most of your montly data plan. As for the bug fixes, they resolve a lock screen clock issue when the phone is in portrait mode, along with a bug that makes the phone revert to its default theme after rebooting.
OnePlus has also improved overall system performance, Wi-Fi speed, battery consumption, fingerprint unlocking speed, and screenshot quality. OnePlus 3 owners now have a way of screenshotting a longer, scrollable page.
The final Nougat update, which is being prepared for both the OnePlus 3 and the faster OnePlus 3T, was supposed to be released already – 2016 year's end was the word. However, it's pretty obvious now that OnePlus won't really make it. Then again, by steadily releasing updates like this, the company is bound to present users with their Nougat updates sometime soon.
ALSO READ