OnLive unveils its cloud gaming app for smartphones and tablets
8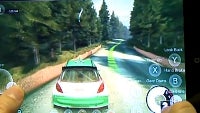 It's been a long wait since we first heard about
OnLive's plans to turn every tablet and smartphone into a gaming console
, where the heavy lifting in games graphics processing will be done by the company's servers, and you will be only streamed the pretty imagery, sending back input control commands for number crunching.
OnLive unveiled its iOS and Android apps yesterday, and there are about 25 titles now that are optimized for touchscreen controls, including L.A. Noire. Of course, the larger the touchscreen the more comfortable will the gaming experience be, so tablets are a primer candidate for some OnLive-ing than smartphones with smaller screens, for example.
The company's proprietary streaming technology has reduced the bandwidth requirements to stream a graphically heavy game to your device to less than those for a YouTube video, so provided you have a decent 3G data coverage you can play with that. Of course, Wi-Fi or LTE are preferable, since more than 80ms latency will make the game unplayable.
If you think mapping and using controllers on a touchscreen is too cumbersome, OnLive has you covered with a $50
Bluetooth game controller
and a low-latency USB dongle as well. The OnLive app is free in the application stores, and, since
HTC has been one of the first smartphone manufacturers that partnered tightly with the game streaming company
, we are curious if the app will come preloaded in all of its future phones and tablets, allowing us to play Crysis 3. Watch the experience demoed on an Apple tablet in the video below.
source:
OnLive