On S8 announcement day, Samsung took over Times Square
26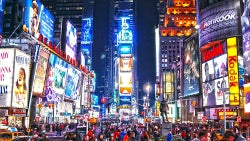 Samsung has really been investing heavily into marketing for the past years. After all, in order to make it in this oversaturated and highly competitive market, you not only need to have a great product, but ensure that the potential customers are aware of it. With the Galaxy S8's announcement, Sammy went extra flashy.
On March 29th, the day of the Galaxy S8 and S8+'s announcement, Samsung staged a takeover of New York City's Time Square. All the screens in the commercial hub went blue with footage of a whale, peacefully swimming from one of the displays to another. The words Galaxy S8 and the phone's teaser image, which only shows a top and bottom bezel, were also present at spots. A troupe of performers hopped to dance and surprise passersby, prompting them to stop and soak in the glorification of the next shiny smartphone.
Of course, if you stage a total takeover of one of the world's most popular intersections, you'd want everybody to know. So, Sammy recorded a video and shot a bunch of photos of the event. You can enjoy them in the slideshow below. Let's all act like we don't see an iPhone 6 in one of the photos.