OmniVision intros 16MP smartphone module with Quad Full High Definition video capture
13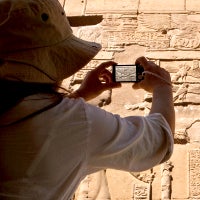 Just when we thought Full HD 1080p video on a smartphone is more than enough for everyone's daily needs,
OmniVision
broke another barrier. The company announced the 16MP OV16820 and OV16825 sensors, both capable of full-resolution burst mode pics, RAW image output, and... hold on - 4K2K video capture, or the so-called Quad Full High Definition (QFHD) video at 60fps.
The OV16285 is what interests us most, as this module will come in a die form for entering high-end smartphones, whereas the OV16820 is built in a ceramic grid array, and destined for DSLRs.
At 1/2.3-inch, the OV16820 and OV16825 image sensors are not as big as those on the
Nokia 808 PureView
and on the
Nokia N8
, but they are brimful of functions for that matter, and capable of operating in full resolution (4608 x 3456) video at 30 FPS, 4K2K (3840 x 2160) video at 60 FPS, and 1080p HD video at 60 FPS with extra pixels for electronic image stabilization (EIS). Here's the nitty-gritty of the specs: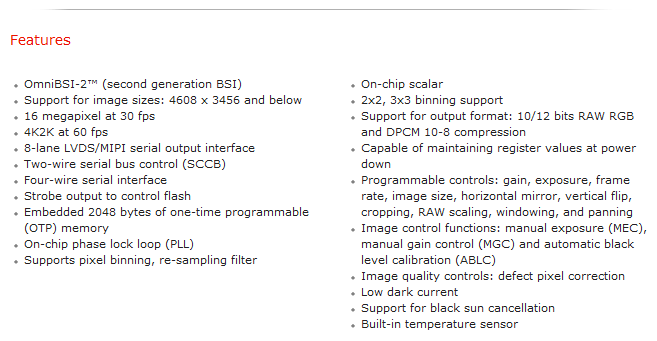 Both sensors will enter mass production in the fourth quarter of the year, so we keep our hopes high to see them in handsets introduced at CES 2013, or maybe even for the holidays. ARM Cortex-A15 with OmniVision's 16MP QFHD sensor taking 60fps video sounds like the next combo to put us in the proverbial limbo over which smartphone to wait for before we pull the buying trigger.
OmniVision Launches 16-Megapixel CameraChip™ Sensors For DSC/DVC and High-End Smartphone Applications
OV16820 and OV16825 Provide 16-Megapixel Burst Photography, Support Emerging 4K2K Standard in High Resolution Recording

SANTA CLARA, Calif., May 22, 2012 /PRNewswire/ — OmniVision Technologies, Inc. (NASDAQ: OVTI), a leading developer of advanced digital imaging solutions, today announced the OV16820 and OV16825, two 16-megapixel CameraChip sensors that support 16-megapixel burst photography and can capture 4K2K video, or Quad Full High Definition (QFHD), at 60 frames per second (FPS). Built on the high-performance 1.34-micron OmniBSI-2™ pixel architecture, the OV16820 and OV16825 were developed by OmniVision to support emerging standards in high-resolution video recording for the digital still and video camera (DSC/DVC) markets and the high-end smartphone market, respectively.
"It was an industry-wide assumption that smartphones would cut into DSC/DVC sales; but at higher resolutions, we're seeing a very distinct divide between the two markets and both remain strong," said Devang Patel, senior product marketing manager at OmniVision. "Industry experts have observed that mainstream DSC products are shifting to 16-megapixel resolutions and are offering improved image quality and optics. The OV16820 supports such offerings, allowing DSC/DVC manufacturers to provide consumers a high-resolution, feature-rich point and shoot photography experience, while the OV16825 provides top-tier imaging and video recording capabilities for flagship smartphones."
The 1/2.3-inch OV16820 and OV16825 image sensors are capable of operating in full resolution (4608 x 3456) video at 30 FPS, 4K2K (3840 x 2160) video at 60 FPS, and 1080p HD video at 60 FPS with extra pixels for electronic image stabilization (EIS). Additionally, the sensors enable full resolution 16-megapixel burst photography, a critical feature for DSC applications. All required image processing functions, including defective pixel and noise canceling, RAW scaling, image size, frame rate, exposure, gain, cropping and orientation are programmable through the serial camera control bus (SCCB) interface.
The sensors are offered with industry-standard connectivity, including up to 8-lane MIPI and LVDS output interfaces for high data transfer rates. The OV16820 is available for sampling in a ceramic land grid array (CLGA) package while the OV16825 will be available in die form (RW/COB). Both are expected to enter volume production by the fourth quarter of 2012.