Oh Canada! Apple takes over top spot from RIM in the country
2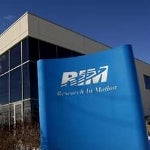 For years, RIM had a strong lead as Canada's largest smartphone manufacturer. And why shouldn't it? After all,
RIM is one of the top Canadian-bred tech companies
in the country. But last year things changed. Bloomberg and IDG report that RIM shipped 2.08 million BlackBerry handsets to Canada last year while Apple delivered 2.85 million units of the iPhone to Canada.
RIM once had a decent lead over the Cupertino based Apple. As recently as 2010,
RIM had shipped 500,000 more smartphones to Canada than Apple did
. In 2008, the year after the launch of the Apple iPhone, RIM had a 5 to 1 lead over Apple's smartphone. But even with the home field advantage, the Apple iPhone proved to be too much for RIM to hold off. And now
with the new BlackBerry 10 OS delayed
, it will be even harder for RIM to re-take the top spot from Apple this year.
shows a series of pictures of what is alleged to be BlackBerry 10 OS
running on a BlackBerry Torch 9810 and BlackBerry Torch 9860. As we commented, there are bits of iOS in the design of the homescreen. Does the software have what it takes to at least allow RIM to
reclaim the top spot in its home town?
Most likely the new OS will be released too late in the year to have any impact on 2012 sales which means Apple might remain the top smartphone manufacturer in Canada for at least the rest of this year. Alfred DuPuy of research firm Interbrand says that once the Apple iPhone launched, RIM stopped investing in promoting the BlackBerry line. In its October 2011 ranking of the world's top 100 brands, Interbrand showed RIM dropping 2 places to rank at number 54 while Apple climbed 9 rungs to number 8.
RIM's Canadian sales account for about 7% of its global revenue and in Q3 of the current fiscal year, those sales slid 23% from the prior year. Worldwide, revenue dropped 5.9% year-over-year in the quarter. While RIM expects its Q4 profit to fall by more than half,
Apple's Q4 profits doubled
and equaled nearly
triple RIM's sales
in its latest report.
source:
Bloomberg