All those Note 9 leaks got to Samsung's nerves, but it responds in style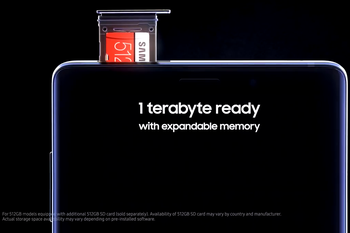 In a non-denial denial posting on its official Newsroom site, Samsung Chile reacts to the
unprecedented amount of Note 9 leaks
with a well-versed statement that essentially confirms all the pretty new features that are coming tomorrow.
"
The company has already released three videos that are an indication of the benefits that the new member of the Note family could have
," comments Samsung patiently. Even then, it argues, the tech blogosphere continued to deliver dollops of information for the yet-unreleased handset, forcing the Chilean branch to clarify what's true and what's, well, doubly true.
First off - the huge battery. "
One of the main doubts is whether the Note 9 battery will increase its capacity
," mulls Samsung. Suffice it to say that even the most powered of power users will be able to comfortably swim through their day on single charge, which is the most we can
expect from a phone with a high-res display
like the Note 9. Next in line is the doubling of the basic storage and the introduction of a
512GB model
rumor. Yep, "
the Note 9 would break that cycle incorporating more storage capacity than its predecessor Note 8
," reveals Sammy.
Hey, what about all that gaming phone speculation? Patient be, my child, says Samsung, and clarifies that "
luckily, the strongest rumors point to just this aspect
." First
Fortnite on Android
experience? You bet,
"a recognized and popular zombie video game
" is making a cameo, allowing the Note 9 to "
thus become the first device to allow download in Android format
." Score three for leakers!