The second coming of Bixby: Note 9 will be the first phone with Samsung's all-new assistant
13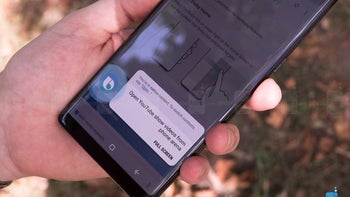 The
Galaxy Note 9
will have one huge advantage before all of its predecessors in the S-Pen-laden line - a
4000 mAh battery
- which is the most Samsung has ever put in a flagship handset. This should remedy one of the frequent complaints about phones with high-res displays - that they can barely last you through a day of hard work before you have to plug them back in, and that goes for the best of them.
That's not the only thing Samsung is going to upgrade in the hardware department, as, apart from the new chipset and more storage, it will also greatly enhance the S Pen stylus, providing it with its own battery and Bluetooth connectivity. What about software, though, a traditional Achilles heel of Samsung that usually tries to cram way too many functions in its Android overlay? Well, there could be improvements on that front, too, but one thing seems to be certain now - the new and improved Bixby assistant will make a
cameo
on the Note 9 indeed, reports Korean media today.
That voice-controlled assistant will flash its Bixby 2.0 version with improved natural language processes, enhanced noise resistance capability and quicker response times. This time, however, Samsung is expanding Bixby into third-party apps and services, providing an application programming interface (API) and software development kit (SDK) for each and everyone who would like to incorporate its chops into their apps. Given that Samsung holds about a quarter of the US market with its phones, we are fairly certain that there will be developers willing to give it the benefit of the doubt, especially if Google runs into anti-trust issues with its Assistant feature as well like
it did in Europe
with mobile Chrome and search.
Furthermore, Samsung is intent on giving the artificial intelligence of Bixby a prominent role across its platforms, interconnecting TVs, refrigerators, air conditioners and washing machines, plus, of course, a
smart Bixby speaker
. One local industry source says Samsung has been preparing the second coming of Bixby for a while now, and we hope to be pleasantly surprised:
The first time we launched Bixby and it was criticized for the service, we started to rebuild from scratch. It took a year and a half to launch the Bixby 2.0. We have focused on preparing for scalability.
Recommended Stories