Google posts heartbreaking 'Android has created more choice' letter
45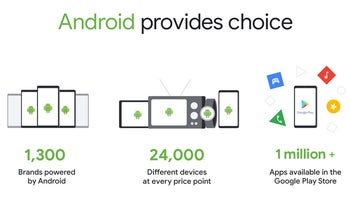 Google has a few comments to make to those pesky Europeans that claim it is taking
unfair advantage
of its monopolistic digital services. Actually, the memo that Google's CEO Sundar Pichai just posted on the corporate blog is probably aimed to preempt the tsunami of media coverage over a giant and imminent $5 billion fine that was just imposed on Google by the European Commission (EC).
The crux of the issue is that according to EC, Google is mandating that Android phone makers use Google Search as a default search engine and Google Chrome as the default browser, thus blocking the competition. Given that the complaint was filed by a lobbying group of the competition itself, including companies like Microsoft and Oracle, we wouldn't be so fast to judge, and Sundar Pichai begs to differ regarding the monopoly accusations.
Android has created more choice, not less
As you can see from the visual materials, Google's CEO argues that Android has created infinitely more choice in the mobile industry than there was before it, and if you don't like a stock app, uninstalling it and choosing something else from the more than a million of apps at the Play Store, is a matter of seconds.

He also adds that phone makers choose whether to pay Google a nominal fee that covers development and distribution and include its suite of Gapps, or not. Most Chinese phone don't come with Google services preinstalled, for instance, as its search service is banned in the country.
Phone makers don't have to include our services; and they're also free to pre-install competing apps alongside ours. This means that we earn revenue only if our apps are installed, and if people choose to use our apps instead of the rival apps.
There are a lot more valid points where that came from, but if the European Commision has decided to set an example for the American digital juggernauts, Google might have to pony up something in the end anyway.
Innovation, choice, and falling prices are classic hallmarks of robust competition and Android has enabled them
The verdict seems a done deal, as Google ends up the blog post with an appeal intention and the #AndroidWorks hash, noting that "
the decision ignores the fact that Android phones compete with iOS phones
." Word.