North Korea praises state-controlled tablet success, don't expect it'd connect to the Internet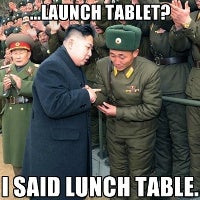 You probably didn't know, but the isolated dictatorship of North Korea has caught up with technology (almost) and now has equipped some students with tablets. Now, reports surface that the North Korean tablet enjoys growing popularity. The
"Achim"
tablet (translates as "Morning") is a 7-inch clone of other models, but not much is known about it.
We do know the screen size and also the weight which is 0.66 pounds or 300 grams, and the battery life of 5 hours. It's mostly used in schools and with young students, but it comes with a lot of limitations.
For starters, there's no Internet connectivity. At all. But the device is full packed with party videos (Communist party, not that other type of parties) and Kim Jong-un glorifying content.
The operating system powering this is likely a version of Linux developed by North Korea and called Red Star, but this is more of a guess than a fact. We don't know the price, but you shouldn't even ask - there's no way you can get this device except going to North Korea. Which you also likely can't do.
source:
KCNA
via
Business Insider