Nook sales declined 55% over the holiday shopping period
3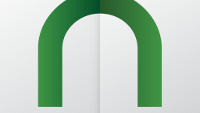 According to the Wall Street Journal, Barnes and Noble's Nook division had a very un-Merry Christmas. Sales declined 55% during the nine weeks that ended on January 3rd. The period, which included Black Friday, Cyber Monday, and any other modern day sale, resulted in revenue of $56 million. Digital content sales were down as were sales of Nook e-book readers.
Barnes and Noble had been looking to combine the Nook division and the college bookstore group, and spin them off as a separate company. But Nook's poor holiday results could put the kibosh on those plans. Maxim Group analyst John Tinker said that as poorly as Nook performed, Barnes and Noble might have problems even selling the division to a third party.
Barnes and Noble CEO Mitchell Klipper said that Nook's poor sales indicated that people are turning back to physical books and also was partly due to the overall weakness in tablet sales. As we've pointed out throughout 2014, larger-screened phablets have been eating away at tablet sales. In addition, tablet users do not upgrade to the latest models like smartphone users do. Klipper did add that Barnes and Noble is pleased with the Nook tablets made by Samsung. Unlike Amazon's Kindle Fire tablets which are powered by a forked version of Android, the Nook tablets run all of Google's apps and feature the Google Play Store.
"Everybody I spoke to said that tablets were the weak link in the consumer electronics space. You had several years of hyper growth, but there hasn't been any real innovation."-David Strasser, analyst, Janney Montgomery Scott LLC
Last August, the manufacturer introduced the
Samsung Galaxy Tab 4 Nook
, a 7-inch Galaxy Tab 4 pre-loaded with Barnes and Noble software, and priced at $179. Six months later,
Barnes and Noble and Samsung unveiled the Samsung Galaxy Tab 4 Nook 10.1
, offered for $299.99.
source:
WSJ