Samsung Galaxy Tab 4 7.0 Review
19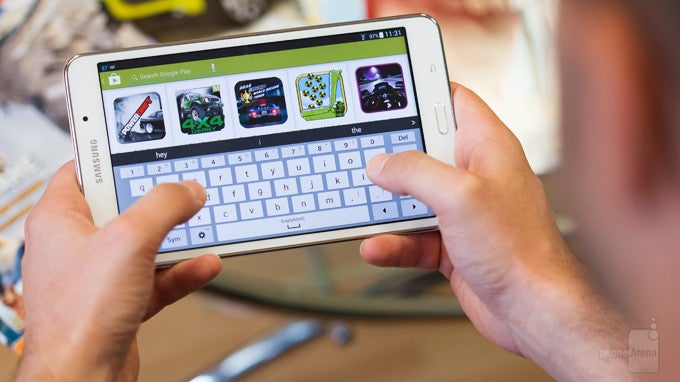 Introduction
Samsung's Galaxy Tab 4 tablets come fresh from the oven, and the
Galaxy Tab 4 7.0
is the smallest and cheapest in this year's trio. It features a 7-inch display, a quad-core CPU, a gig and a half of RAM, and it runs Android KitKat topped off Samsung's latest tablet UI – all at the reasonable price point of $199. This tablet sounds like it has lots of potential, but does it fare so well in reality? Let's find out.
Design
An uninspired look, but the build quality is flawless.
The Galaxy Tab 4 7.0 is boring to look at, but this isn't of much importance. Once again, plastic is Samsung's material of choice. However, the Tab 4 looks and feels very sturdy. It is a sleek, solid, well-built tablet. There are no creaks, shallow spots, or misaligned elements to distract from the Tab 4's simple, functional look. The tablet has a unibody design with a metal binding around the outer edges that holds the construction tightly together. The only weak spot is the slightly wobbly Home button, but this is nit-picking.
Measuring 7.36 x 4.25 x 0.35 inches (186.9 x 107.9 x 9 mm) at a weight of 9.74 oz (276 g), it is a whole inch narrower than the
Kindle Fire HDX 7
, and decidedly smaller than the
Nexus 7 (2013)
. It is also slightly smaller than its predecessor, the
Galaxy Tab 3 7.0
. The Tab 3 and Tab 4 do share common design traits, but instead of overly smooth plastic, the Tab 4's back features a rugged texture, providing a better grip.
In terms of ergonomics, the Galaxy Tab 4 is quite comfortable to hold in one hand. Holding it in Portrait orientation with two hands is a possibility as well, although there is little real estate for your thumbs to rest on. That's the trade-off for the slim bezels.
Display
A pleasant view, but it doesn't "pop" like a Samsung display.
Although the resolution of 1280 x 800 is middling, and the pixel density of 216 ppi doesn't sound impressive, the Tab 4's display looks just fine in practice. Small text (including Asian characters) and little details remain readable. There's no visible pixelation, although there's a hint of fuzziness to icons and images with lots of fine detail.
In terms of color reproduction, the Galaxy Tab 4 7.0 fares well, but not without flaws. The display's color temperature (7055 Kelvins) is close to the reference 6500K, but the colors aren't true – in fact, they are rather undersaturated (especially red). Hence, the display doesn't "pop" like you would expect from a Samsung panel - it actually comes across as subdued.
Still, the display we have on Samsung's new 7-incher is pleasant to look at, unless you happen to be under direct sunlight. That's the moment when the overly reflective glass becomes a true hindrance, and the panel's maximum brightness of 374 nits is not enough to alleviate the problem. Thankfully, the screen's viewing angles are great, and the image is always consistent.
Display measurements and quality