Nokia's EDoF camera gets better: in-focus macro shots are now a reality
3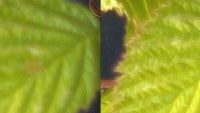 Nokia is known for still holding the best smartphone camera throne with the 12-megapixel snapper on the Nokia N8, but when you go into the more affordable mid-range and lower-end handsets of the company, it cuts short even on the auto-focus capability. Nokia's low and mid-range Symbian devices actually use an
extended depth of field
(EDoF) camera, something that the Finns also refer to as full focus, and most of us know as fixed-focus. With no complicated focusing machinery, EDoF is all about simplicity, quick shots and having everything in focus. Now, this comes with some considerable downsides - you can't really contrast or blur the background and everything within around 20 inches (50 cm) appears out of focus.
At least that used to be the case with the first generation of Nokia EDoF cameras, but it seems that Espoo has quietly worked on that and in the new Nokia 701,
macro shots are finally possible
. Now, that doesn't mean they're perfect - there's still some fringing, but they are a huge leap over what we've seen so far and the pictures below illustrate this perfectly. It's even more evident when snapping documents with the camera - the text is now legible and can definitely be read afterwards. On both images, the left part is shot with the Nokia C7, which uses the first generation EDoF sensor, while the right part is taken on the Nokia 701 with the new EDoF camera. In the pictures, the distance to the object is around 12 inches (30 cm). Check out the source below for an in-depth comparison of how Nokia's full focus cameras have improved and let us know whether that changes your perception about EDoF.