Nokia unveils 4 budget-savvy C series phones, premieres dual SIM functionality
0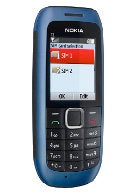 Nokia revealed four of its new low-end C series handsets targeted at developing countries at a press conference in Kenya. It is the first time we see dual SIM functionality on a Nokia handset and it is not just one but two phones at once. The Finns will start shipping the low-cost
Nokia C1-00
in the 3rd quarter of 2010, while the
C2-00
, which features the well-known S40 interface will make its way to the shelves at the end of the last quarter of 2010. The other two devices, the
Nokia C1-01
and
C1-02
, are single SIM handsets, scheduled to appear in the 4th quarter. Both have expandable memory through microSD and aim to change the way undeveloped countries access the Internet. The four new phones will be sold at prices from 30 to 40 euro ($36 to $55 USD) before tax and subsidies.
What's interesting here however is that the Nokia C1-00 will not support two simultaneously active SIM cards. It will be up to the user to choose which of the SIMs is active at the given moment. The C1-00 will also have a color display with an FM Radio and a 3.5mm headphone jack. The Nokia C2-00 on the other hand has
true dual SIM functionality
with both SIM cards active. Plus, the second SIM card can be changed without having to switch the phone off, which is a pretty neat concept. The Nokia C2-00 also comes with a microSD slot supporting up to 32GB cards and Ovi Life Tools, Nokia's solution for agricultural and health information.
Nokia knows well that bikes are the most power efficient vehicles in the world and offers a new bicycle charging solution for emerging markets. The idea goes well with the newly announced handsets and is simple – a charger is mounted to the bike as the dynamo works to charge up the device. This sounds healthy and fun and taking into account how widespread bicycles are, it seems that Nokia are right on the money.
Nokia C1-00 Specifications
Nokia C1-01 Specifications
Nokia C1-02 Specifications
Nokia C2-00 Specifications
source: Nokia