Nokia prepares global 3G multimedia phone with two keyboards
This article contains unofficial information.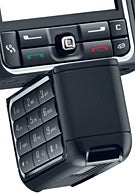 Update: 2 Feb 2007.

Many people claim that the RM-230 is quad-band GSM but only SINGLE band UMTS is supported. We are not sure that's true, but guess it could be the sad reality. So, we'll see if the phone has world 3G or European only when it is officially announced.
Thanks to
Stefan
and
Ricky
//
Update
What we have here is a basic scheme of
Nokia RM-230
, still unknown model (but not part of N or E series as its model is XXXX), which we guess will be the successor of the 3250 music phone.
The new Nokia phone is quad-band GSM and tri-band UMTS (probably HSDPA-capable) device supporting world roaming in both 2 and 3G – the only image available shows is has rotating lower part (as it was with the 3250) with play/pause and camera keys on the back. On the opposite side it probably has standard numeric keypad and navigation keys. Supporting all frequencies, the phone will be fully usable in the US (for which it just got approval by the FCC), and hopefully – offered by the carriers.
There is no official information at the moment, but probably something will pop up soon. If you have any information about the exact model, its specifications, or just some spy photo/information you want to share with us, feel free to contact us. If this mysterious phone appears on the 3GSM show in Barcelona, we will be there to check it out
via FCC