Nokia planning an event for August 28th in Moscow
44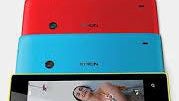 It looks like Nokia isn't done with its announcements. The company has said that it would be making major announcements every quarter this year, and we may have the time and place for the next major announcement. Nokia has started to send out press invites for an event that will be held on August 28th in Moscow, Russia.
Unfortunately, we have no idea what this announcement may be. The reports are saying that Nokia is going to announce a "major new smartphone". But, that seems unlikely, because the biggest thing in the Nokia rumor mill right now is the
Windows RT tablet
, but that won't be released until October, so Nokia's September event makes more sense for that announcement.
On the smartphone side, we still haven't seen the announcement for the Nokia Lumia 729, but that would be a Verizon phone, and it would make little sense to announce a Verizon phone in Moscow. And, of course there is the rumored
Nokia phablet
, but that has been rumored for a November release, which would put it out of the running for this event.
Frankly, we're not sold that we're going to see a "major smartphone" at this event in Moscow. More likely, it will be a mid-range device with a regional release. We don't expect to see anything that major that would be getting a worldwide release.