Nokia's upcoming phablet: a round up
64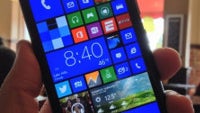 Name the company: a previouspowerhouse ultimately reduced to almost complete ruin. Two names aresure to pop up: Nokia and BlackBerry (formerly known as RIM). Andwhile Waterloo-based BlackBerry may be facing some really tough,potentially fatal times, Nokia seems to be getting closer and closerto a renaissance. The Finnish manufacturer has been steadily gainingground, spearheadingthe Windows Phone effort, in a big part thanks to an increasinglycompelling portfolio of products, the shortcomings of theaforementioned OS notwithstanding.
If you're not a regular around here,a clarification may bein order: we've been getting wind of an upcoming Nokia phablet anda tablet for quite a while now.These are both expected to come by the end of theyear – a commendable increase in Nokia's pace. Both have seen arather modest amount of leaks and general intel, but it is Nokia'sphablet that we'll be spotlighting for you today.
Tostart off, it only makes sense that we lead with availability. As isthe nature with all things rumor, the information is, at best,unreliable. On the count of Nokia's phablet, it's that andconflicting. Namely, we've been hearing about various possible launchdates, ranging from mid to late September, allthe way to November. In fact, the only specific date that we knowof is an alleged Nokiaevent set to take place in New York on September 26th-27th 2013.Those keeping tabs on the manufacturer probably know that it hasreserved NYC for its major US launches, and a phablet will definitelyfit that bill. Of course, the event may very well see the unveiling ofthe rumored Nokia tablet instead, but we're fairly sure that it's oneor the other, due to a dropped remarkby Nokia CEO Elop during the Lumia 1020 launch event, hinting a"major launch" is imminent.
Arelease date in the fourth quarter is not completely random, though.For a successful foray into the phablet market, Nokia needs to comeout packing the big guns. Said otherwise, both a phabletand a tablet are,objectively, a no-go until at least WindowsPhone 8 GDR3 has been released to manufacturers sometime next month.Said update will allow for quad-core processor and 1080p displaysupport, both of which are hinted to come with Nokia's phablet. Whilewe've seen conflicting information on the exact diagonal, we'reinclined to think that the 5.5- to 6-inch ballpark is what we canexpect. Speaking of hardware, sourcesfor NokiaPowerUserclaim that the Finnish company may be testing a version of thephablet sporting the Lumia 1020's 41MP shooter.While a salty approach to this particular news (and as a whole,actually) is advised, we can't help but wish that this particulartidbit would materialize into reality.
Needlessto say, and to wrap this up, a device of this caliber is sure to makea splash, perhaps even prove a worthy competition to the upcomingGalaxy Note III. All signs thus far indicate that arenaissance of sorts may very well be taking place over at Nokia, andwe certainly are itching to get some more conclusive and specificevidence that we can share with you. In the meantime we'll make thebest of it by imagining what it could be; to that end we've curated a small gallery for you to join in on the fun.
source: Neowin,NokiaPowerUser