Nokia TV is real, coming soon to Finland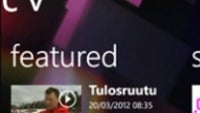 The rumor of Nokia launching its own TV service surfaced on the Russian interwebs a couple of days ago, and now the Finns give in and confirm its real and it's called
Nokia TV
. The new entertainment service will be officially unveiled in the coming weeks in Finland.
Nokia TV will allow you to browse through and/or search TV programming from popular broadcasters, and stream shows directly to your smartphone. It will be available on the company's Windows Phone-powered Lumia series.
"With Nokia TV we are bringing existing services in Finland together in a convenient way. We're making it easier for people to find and watch TV, while supporting broadcasters' existing internet TV business models,"
said Mika Suomela, head of TV and video at Nokia.
Finland was chosen as the testing ground for the service not only because it's the home for Nokia, but also because of the high mobile penetration in the Nordic country.
Now, as it's described currently, the service doesn't seem as allowing as the rumors suggested. Initially, whispers were that you would be able to live-stream TV via Wi-Fi or your cellular data, as well as download shows. Time will tell, though, so let's just wait and see.