Nokia Pure view could mean a huge bump in megapixels: here's why
34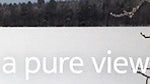 Earlier today, Nokia teased us with its Nokia Pure View camera technology focusing around three pillars: pure definition, pure depth and pure detail. We also saw some impressive shots of snowy landscapes or rather - a snowy landscape. Greek tech blog Pestaola has an interesting spin to the story claiming that Pure View might be the best camera we've seen on a smartphone so far and it might mean a huge bump in the megapixel count.
Why? Take a look at the picture Nokia shows in the video below - the snowy landscape seems to be the big picture while the three shots used for the pure definition, depth and detail part are only crop outs.
The images below confirm this and this in turn confirms that we should expect a handset with the megapixels bumped up to the maximum the chip allows. The Greek blog doesn't specify how much exactly, but does say that the 12-megapixel on the Nokia N8 will simply pale in comparison. It also mentions a possible 3 to 4-fold increase and DSLR-like quality, both things that seems a bit over the top, but let's just wait and see.
Thanks, Stefanos!