Nokia N95 with 8GB is real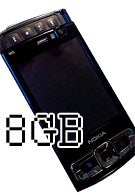 already heard rumors on the 8GB
version of the Nokia N95 but now it is official thanks to the FCC. Approved back in June, now the code-modeled RM-320 shows that it is Nokia N95 8GB. The images show that the refreshed model will probably come in black color and that its music keyboard is redesigned, so now is not flat. Earlier rumors that it will lack GPS are disproved, with the manual showing information on A-GPS system.
In the past week, information on US version of the N95 leaked as well. It showed the new America-3G-friendly variant with the same music keyboard as the one here and with redesigned back with rearranged flash and without closing mechanism. We are not sure if this one is also with redesigned back, but unfortunately it still has only 2100MHz UMTS/HSDPA and won't be able to use 3G in America. The US version of the N95 is also rumored to have more powerful battery, but we don't know if it is the case with the N95 8GB.
We guess that the N95 US will be identical to the N95 8GB but featuring US 3G frequencies instead of European ones and 8GB memory.
Still, the 8GB Version of the Nokia N95 is not officially announced, but we will update you with more information when we have it.
Nokia N95 Review
Nokia N95 8GB Specifications