Nokia N95 Review
10

With the introduction of the N-series phones, Nokia started offering devices with advanced multimedia capabilities. N90, Nokia's first phone with Carl Zeiss optics was a hint about the company's intentions of creating a device which one day can substitute a stand-alone camera from the mid-class. With time, the top-level Nokia models have continued to use the same optics while also have developing better software and image sensors, thus raising the megapixels. The N73 came out. But Nokia decided that a 3-mega pixel resolution and brand-name optics are not the only thing, which a top-of the-line multimedia phone should be able to do. N93 demonstrated an optical proximity /zoom/ and video recording with resolution allowing " TV quality of the picture "- 640 x 480 pixels at 30 frames per second. This turned the phone not only into a camera, which you can always bring with you, but also to a comparatively small camcorder to record those precious moments.
Nokia N95 is the logical heir uniting the previous models in one, making it the top-model in the line for 2007. N95 combines the positive features of a few top-models and it is a multi-functional device with standard size. For its design, the slider form-factor of the N80 has been borrowed along with with some features of the N73. The camcorder offers the same capabilities as the one in N93 and the camera is again with Carl Zeiss optics, but this time with the enviable 5-megapixels. But this is not all. In its pocket dimensions the telephone embrace Symbian operating system typical for all Nokia smartphones and among its feature we have no choice but to mention a 3G HSPDA high-speed connection, a Wireless Lan /WiFi/ and a build-in receiver for localization (GPS). Whether N95 is really this unbelievable phone, offering so much in such small package, you will read in the review below.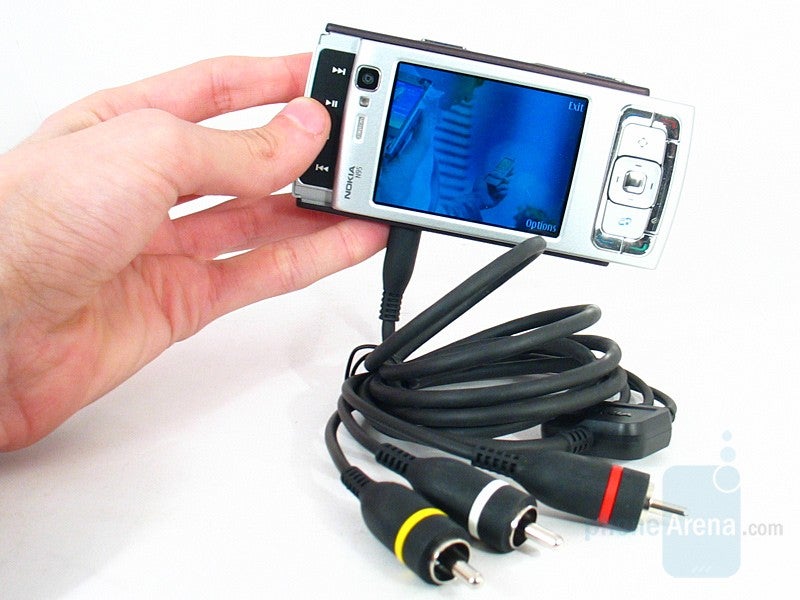 Nokia N95 connected to the TV-cable
The sales package of Nokia N95 demonstrates that it is a device of the highest technological and price class. In the box you will find wired remote control controlling the music features, stereo headphones, a cable for connection to a computer and another one for connection to a TV set in order for you to view your photos and videos on a big screen. There is also a charger, user manual and a CD with software. Most boxes lack a carrying case, while the Malaysian version has a very nice leather one along in 1GB of microSD memory.