Nokia Lumia 900 confirmed for AT&T by NY Times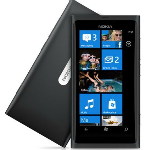 We're not really sure it was something that needed to be confirmed, but the New York Times has nonetheless confirmed that the Nokia Lumia 900 will be released on AT&T. This isn't really a surprise, because as yet Verizon hasn't really adopted Windows Phone all that much, so if a premier WP handset is coming stateside, likelihood is it will be headed for AT&T.
We still don't have any confirmed specs for the Lumia 900, but it's expected to be packing an LTE radio, 4.3" WVGA ClearBlack AMOLED display, 512 MB of RAM, an 8 MP camera, and Windows Phone Mango. Of course, we'll get all the info we're looking for on Monday at CES, so stay tuned.