Nokia Lumia 800 getting versions in white and yellow
18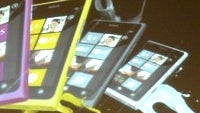 The
Nokia Lumia 800
is one of the best Windows Phone devices you can get right now, and it's already arriving in a variety of colors - you have a cyan, magenta and black versions, but if that wasn't enough Nokia is ready to hit you with two more variations. When Microsoft showed this slide at a media event in France and told bloggers not to photograph, it probably realized that just the opposite was going to happen. In either case, the image of a
white and yellow
versions Nokia Lumia 800 has surfaced on the web and even mockups were reportedly shown at the event.
Nokia or Microsoft
haven't yet announced anything officially
, but judging from Nokia's experience with the very similar designwise Nokia N9, a white version of the Lumia 800 should have been expected. Recently, the Finns rolled out a white Nokia N9 months after the original N9 launched and explained the delay with overcoming obstacles to getting the white color they wanted on the polycarbonate unibody.
Now, the release of the new color variations for the Lumia 800 depends on
customer demand
, of course, and it's also possible that these versions won't see the light of day if users don't buy the handset. But we really hope they do, at least for the gorgeous white version. Which is your favorite color for the Lumia 800?