Nokia Lumia 800, 710 updated with mobile hotspot, Camera Extras and more
9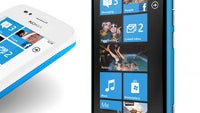 Today, the
Nokia Lumia 800
and
Lumia 710
are getting updated to a more advanced version of Windows Phone with support for mobile hotspot and the new camera extras feature, along with plenty of smaller tweaks.
First, the Lumia 800 and 710 still lacked hotspot functionality and now that's fixed with this update. Mobile hotspot basically allows you to share your phone's connection with other devices such as notebooks, tablets and others. You can also flip to silence your phone.
With the new update, now you'd be able to download Camera Extras for the two handsets. Those include the smart group shot function where the camera snaps five quick pictures and chooses the best one for you with just one press on the shutter key. Action Shot brings a burst of shots - perfect for sports events and others where you need to capture that quick movement. Finally, self timer and panorama are self explanatory. Let's make it clear though that after updating the apps will become available in the Marketplace, but you'd still need to go there and install them.
All those features are already available on the Lumia 900 and 600, and we're happy to see them on the first two Windows Phones as well.