Nokia Lumia 610 NFC is now official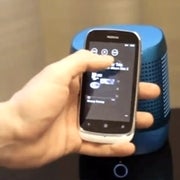 UPDATE:
The Nokia Lumia 610 NFC was just announced officially. As expected, it is basically a Lumia 610 with an NFC chip. The device is expected to be available in Q3 of 2012, and Orange UK will be among the carriers that will offer it.
source: Nokia
The Nokia Lumia 610 NFC is a smartphone, the existence of which was confirmed by accident this very morning. On its
YouTube
page, Nokia posted, and then quickly pulled, a promotional video showing off the device in action. In the video, the Lumia 610 NFC was used for making contactless payments via Mastercard Paypass, streaming music to an NFC-enabled wireless speaker, and for other tasks that take advantage of NFC technology.
Although the Nokia Lumia 610 NFC has not been announced officially yet, that is expected to happen later today during the WIMA NFC 2012 convention in Monaco, which Nokia is sponsoring. Our guess is that the smartphone will be identical to the non-NFC
Nokia Lumia 610
model both in terms of software and hardware, save for the NFC chip, of course. Further details, such as pricing and availability, remain unclear at this time.