Nokia Asha family updated with Nokia Asha 202, Asha 203 and advanced Asha 302
1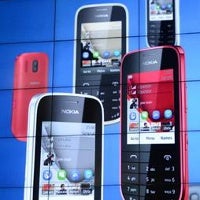 Nokia introduced its Asha Series 40 feature phone family back at Nokia World, and now it's getting a big refresh with three new handsets: the Nokia Asha 202, Asha 203 and Asha 302.
The Nokia Asha 202 and Asha 203 are in the middle of the Asha seres. They are extremely affordable, priced at just around $80 (60 euro) and shipping within a couple of weeks.
The Asha 202 and 203 are almost identical, except for the 202 being dual-SIM while the Asha 203 is a single-SIM device.
Nokia Asha 302 is the most advanced handset in the Nokia Asha family. It sports a 1GHz processor and a full QWERTY keyboard. The Asha 302 price is set at around $127 (95 euro) off contract.
All new Ashas come with cloud-accelerated Nokia browser. They also feature business email with Microsoft Exchange email. The ActiveSync protocol support was demonstrated on the Asha 30x devices.
Additionally, the Ashas are coming with improved Nokia Life services, and better social networking.Gaming is also taken care of with 40 popular EA games.
source: Nokia