HMD Global executive reveals Nokia 1 and Nokia 8 Sirocco prototypes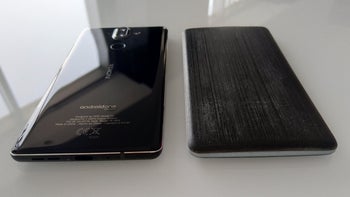 After unveiling a number of devices earlier this year at MWC 2018, HMD Global's Chief Product Officer Juho Sarvikas has revealed various images showing off the initial prototypes of some of its most recent devices, namely the Nokia 1, Nokia 8110 4G, and the Nokia 8 Sirocco.
Overall,
HMD Global
appears to make use of the latest 3D printing technology in order to create its smartphone prototypes, with all three models clearly presenting a layered build. These are then gradually refined over time to the point of creating the final product, although certain design changes are usually made along the way. Take the
Nokia 1
for example, the prototype seen in the images sports a much squarer design than the end product. Also, the bottom bezel features a cut-out for what would have been a front-facing speaker, while the Nokia logo up top was initially placed in the corner. Contrary to this, there are also prototypes that are perfect from the very beginning, such as the
Nokia 8110 4G
. From the looks of things, it appears HMD Global was happy with its initial design from the very start, with the only change being the addition of the Nokia logo on the final product. Speaking of which, it recently
went up for pre-order
across Europe, with shipments beginning July 4.
On the other hand, when it comes to more premium smartphones such as the
Nokia 8 Sirocco
, HMD Global appears to have taken a much more cautious approach, starting from a very basic slab of plastic and ending up with the premium glass build of the end product, with each step of the process adding slightly more detail to the smartphone.