Nokia 6 is put through a scratch and bend test
14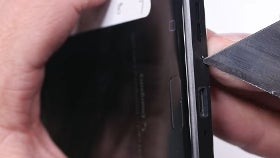 Coming soon to various markets around the world, the
Nokia 6
may not be the hottest smartphone we've seen, but it's certainly a very interesting product. If you're thinking of buying the Nokia 6 once it hits the market, you may first want to know just how durable the device is. Luckily, YouTuber JerryRigEverything can already satisfy your (and our) curiosity.
As you can see in the first video embedded below, the 5.5-inch screen of the Nokia 6 doesn't scratch easily - thanks to a sheet of Gorilla Glass 3 that's protecting the front of the phone, putting it on par with many other handsets out there (including some high-end models). The glass covering the phone's rear camera is scratch-resistant, too, while the fingerprint reader - found on the front - is "totally scratchproof."
Since the back and sides of the Nokia 6 are made out of aluminum, these areas are pretty easy to scratch - but that's what you get with most metal-made phones anyway. On the plus side, it looks like the Nokia 6 is extremely hard to bend, being "one of the most solid devices" that JerryRigEverything tested thus far.
All in all, for a smartphone that's going to cost around $250, the Nokia 6 seems impressively solid. Its manufacturing process definitely has a lot to do with that. As the second video embedded below is showing, HMD Global / Nokia Mobile is making its new phones (including the
Nokia 5
and
Nokia 3
) from solid blocks of aluminum that are CNC machined, polished five times, and anodized two times. After that, the handsets have to pass over 600 different tests before being shipped out. Not bad, right?
Recommended Stories