Nokia 5730 XpressMusic appears in focus for the first time
1

The Nokia phones that feature a full QWERTY keyboard aren't so many, and side-sliding ones would be totally missing, if it wasn't for the N97. That's why it was a bit of a shock, when information on the 5730 XpressMusic appeared, saying that it will utilize the side-sliding form-factor. Not only that it hasn't been officially announced, but has also never got in our sight, until now. Moreover, the source of information isn't doubtful specifications and spy photos, it's actually a rather detailed preview, written by our colleagues from Mobile-Review.
You can tell from the pictures of the device that there's more work to be done, before it should head for the stores. For example, the font, which has been used for the keys and the side-sliding full QWERTY keyboard looks weird, to say the least. However, here are the specifications – the model is going to work on Symbian S60 3rd Edition Feature Pack 2, it's going to have a 2-inch display with QVGA resolution, a 3.2-megapixel camera with a LED flash and Carl Zeiss lens, a 3.5mm jack, a built-in GPS, a microSD card slot and a 1000mAh battery, which should provide you with 4.5 hours of talk-time.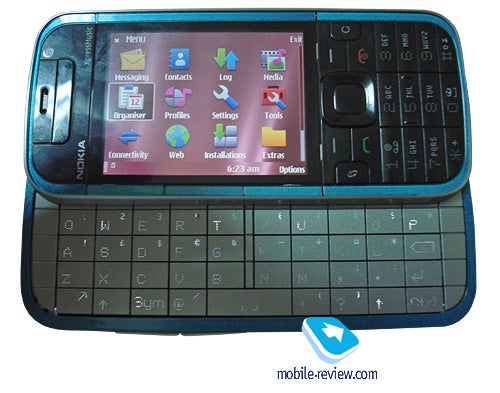 As a whole, the Nokia 5730 XpressMusic looks like an alluring offer for the young people, combining a fresh appearance and a full QWERTY keyboard for the ones that are fond of writing messages. It is expected to be released in Europe this April, at a price of $289.