The Nokia 2 (for AT&T and T-Mobile) is launching soon in the US, large battery included
9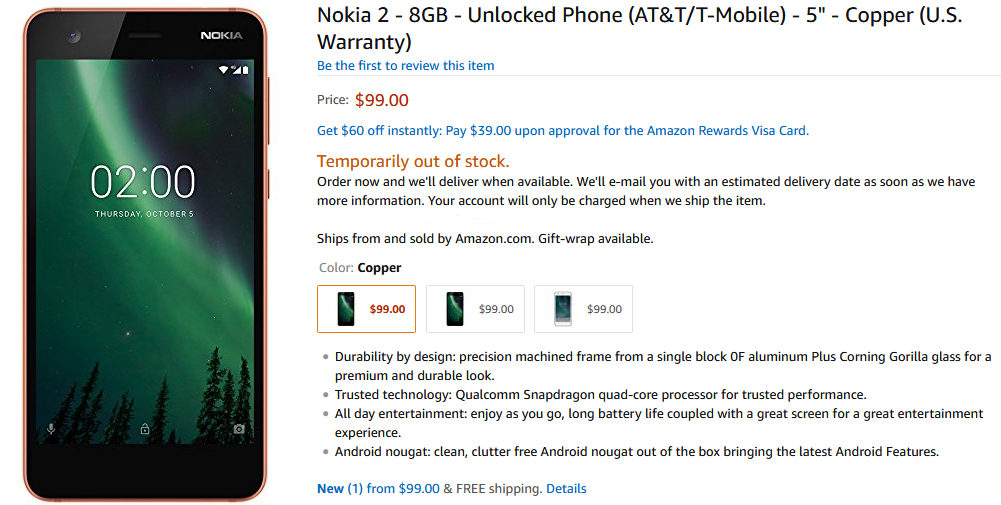 Announced at the end of October, the Nokia 2 is a smartphone that runs near stock Android 7 Nougat, and is aimed at customers whodon't want to spend too much on a new handset. If you're in the US and you'reinterested in buying the Nokia 2, we have good news. Amazon is getting ready tostart selling the smartphone, US warranty included.
The Nokia 2 is compatible with carriers like AT&T andT-Mobile, but won't work on Verizon and Sprint. The phone comes unlocked, and costsexactly $99. Amazon lists three color variants of the device: Black, Copper,and White.
The highlight feature of the Nokia 2 is its generous 4100mAh battery, which can last 2 days on a single charge. The handset furtheroffers a 5-inch 720p screen, LTE, a quad-core Snapdragon 212 processor, dualSIM support, a 5 MP front-facing camera, and an 8 MP rear camera. Unfortunately,there's only 1 GB of RAM on board, and just 8 GB of storage space (though youcan expand the storage space with a microSD card).
For now, there's no word on exactly when Amazon will launchthe Nokia 2, but the phone should be available soon anyway. Think you'll want to get one?
source: Amazon