New iPhone 6s commercials showcase 4K video recording, onions, and the benefits of Touch ID
12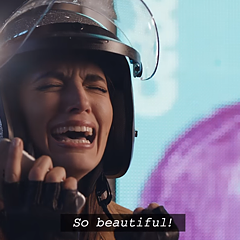 Apple today released two brand new
iPhone 6s
commercials, one showcasing the handset's ability to record 4K video, and another one hailing the benefits of Touch ID.
Dubbed "Onions", the commercial that presents the video recording capabilities of the iPhone 6s introduces a girl and the unexpected success of her 4K video footage showing some onions being chopped. The footage receives universal praise, prompting a man to declare that "the rules of cinema have changed", and ending up winning an unspecified award presented by actor Neil Patrick Harris. Frankly, we kind of feel that everything in the commercial seems exaggerated in a rather silly way. Of course, this doesn't change the fact that
the iPhone 6s is indeed great at recording 4K video
.
As for the Touch ID commercial, this reminds us that an iPhone 6s lets you use your fingerprint for more than just unlocking the device - like paying for stuff with Apple Pay, signing documents, or unlocking your car.
The
iPhone SE
(launched last month as the cheapest iPhone yet) also features 4K video recording and Touch ID with Apple Pay, but it's not mentioned in either of the new Apple ads - which, by the way, can be watched below.