New G4 app for Android perfect for gamers and mobile device fans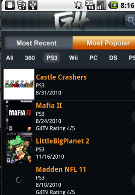 If you love to play video games, or even if you just have a "thing" for mobile devices, you probably are a viewer of cable network G4. The G4 app for Android is chock full of all the things that you have an interest in such as game reviews, cheats, interviews and videos. There is also a handy television schedule which will let you know what time "AOTS" is on (any G4 fan worth his badge will know what those initials mean).
The main screen features the G4 News from TheFeed and a link takes you to a page totally comprised of videos. The problem here is that with the G4 app, video content will only play when you are using Wi-Fi. Definitely a bummer there, but with free broadband available from McDonalds to the local gas station, you should be able to find a place to watch. The app is a free download from the Android Market.
source:
G4TV