Essential might be up for sale, but Andy Rubin suggests its next product will be "game-changing"
31
Bloomberg today has it that Essential Products Inc., maker of the intriguing
Essential Phone
that debuted last year, may be up for sale. Reportedly, people familiar with the matter say that Essential has "canceled development of a new smartphone" while hiring advisors from Credit Suisse Group AG in order to find potential buyers.
Allegedly, at least one (unnamed) suitor has already shown interest in acquiring Essential. According to Bloomberg, the company is considering a complete sale, including all hardware products and patent portfolio.
Not long after Bloomberg's report hit the Internet, Essential founder (and former Android boss) Andy Rubin responded to it on Twitter. While Rubin doesn't really deny (or confirm) the fact that Essential is up for sale, he does clarify some things, including the fact that his company "always" has multiple products in the making, and does not shy away from "canceling some in favor of the ones we think will be bigger hits." So Bloomberg seems to be correct in affirming that a new Essential phone was canceled. Nevertheless, Andy Rubin mentions that the company is currently "putting all efforts" into developing "future, game-changing products, which include mobile and home" devices.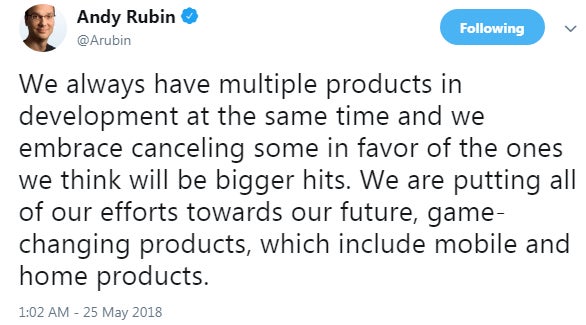 This being said, we're certainly expecting a
new Essential smartphone
- other than the canceled one - to arrive soon as part of the company's mobile plans. It remains to be seen whether or not this upcoming handset can be game-changing, and if Essential will have a new owner (or maybe owners) by then. Bloomberg notes that a final decision on the company's sale has yet to be made.
Launched in the summer of 2017, the first Essential Phone (model name PH-1, pictured above) was initially priced at $699 and didn't sell well. However, following
price cuts
, numerous software updates, and the introduction of multiple color versions, it's said that Essential has now sold over 150,000 handsets - not too bad for such a young company.
The original Essential Phone kind of started the
notch trend
(if we can call it that), and it's still one of the most interesting handsets on the market - thanks in no small part to the materials that it's made of (including titanium). We have to wait and see if the next Essential smartphone follows in its footsteps, or if it's going to carve out a new, wild path.