Never lose track of that food court: Google Maps can now guide you inside the Smithsonian, more museums on tap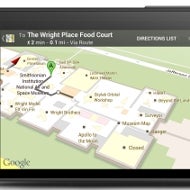 About 20 museums in the United States have been added to Google Maps with their floor plans, including the largest museum complex in the world - Washington, DC's Smithsonian, which alone makes for 17 of those.
Google's indoor mapping technology
relies on a combination of GPS/mobile network/Wi-Fi pinpointers to show your exact location in the buildings, so you can get from the T-Rex skeleton, where you kid got lost, to the more friendly grounds where the whole family is.
Other museums, besides the 17 Smithsonian buildings include the de Young Museum in San Francisco, the Philadelphia Museum of Art, Cincinnati Museum Center, the Indianapolis Museum of Art, the American Museum of Natural History, and even the National Zoo.
More are coming very soon, including the SFMOMA, The Phillips Collection, the Nelson-Atkins Museum of Art and the National WWII Museum in New Orleans. If you are interested in including your own museum in Google Maps for Android, hit the link below to submit the floor plans.