Google Maps 6.0 with indoor navigation overview
4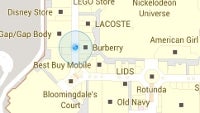 Who would have thought in the times of Amundsen that the last unexplored frontier would be... shopping malls and airports. Yet that is precisely the first world problem Google is trying to solve with
yesterday's launch of Maps 6.0
.
The latest version of Google's software includes indoor navigation in select places. It has taken the time to map gigantic shopping centers like Mall of America, as well as
IKEA and Home Depot stores
, plus select Macy's and Bloomingdale's locations. Those stores definitely need mapping, especially if you are keen to find the nearest restroom and the indoor signage is confusing.
Not only that, but some airports in San Francisco, Chicago and Atlanta are also mapped, which is a relief if you have a gate change, or are wondering where to pick up your luggage from. Google Maps 6.0 takes you outside the US with indoor navigation, too - Japan's Daimaru, Takashimaya and Mitsukoshi department stores are also listed, as well as the Narita airport, where we found the signage to be still in Japanese in Maps 6.0.
You can
choose floors
and then layers with maps of the department store or airport at this particular level get tacked on or removed to reveal what's above or below you, and there are neat little signs for every restroom, stairs, elevator, parking garage, ticket counter or baggage claim area to choose from.
All the while that little blue dot familiar from our outdoor adventures with Google Maps glows to show where exactly you are in the mall or the airport, and you can find and be led to the nearest sushi restaurant, Apple Store (we kid) or follow the directions to your flight gate, all from the comfort of your Android phone or tablet. Have a look at our quick overview of Google Maps 6.0 in the video below.