Netflix brings nifty new feature to Android and iPhone users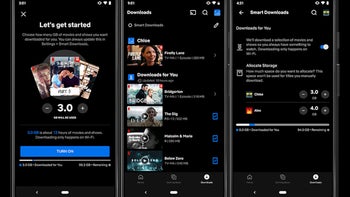 Netflix
is just one of the many streaming services that allow customers to download content for offline watching. Today, Netflix customers using this specific feature are getting a little bit of an upgrade, which comes in handy while on the go.
According to an
official statement
, Netflix is launching
Downloads For You
, a feature that will automatically download recommended shows or movies directly to your Android smartphone or iPhone.
It might sound weird to let Netflix choose what content to download on your phone, but the company is confident that its recommendations are so good that it's worth adding this specific feature.
Although
Downloads For You
is a nifty feature for those who don't want to browse Netflix's huge database of shows, there's a way that you can turn it off. In fact, you can even customize the feature to download what you want and the size you wish it to download.
First off, you must head to the Downloads tab and toggle on
Downloads For You
(or off). If you choose to turn it on, then you can choose the amount of content you want to be downloaded to your phone: 1GB, 3GB, or 5GB.
For the moment, the new feature is available on Android devices only, but
Downloads For You
is being tested on iOS and it will be added at a later date.
Recommended Stories