Nest now available in Google Play, $249
9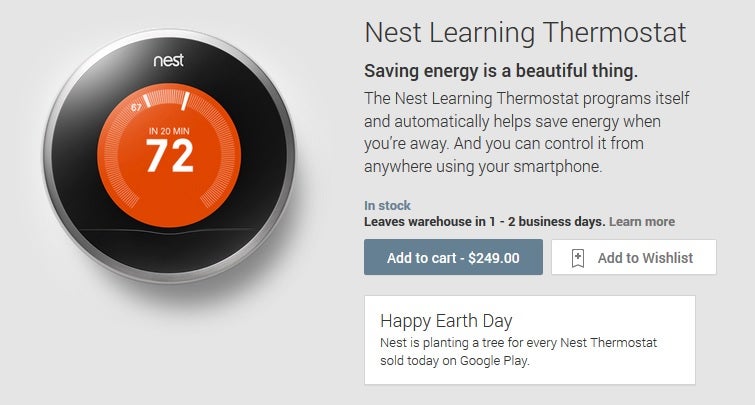 Right on cue for Earth Day, Google has put Nest, a smart, "learning thermostat," up for sale on Google Play for $249.
We put out the word yesterday
that Nest would be available on Google's online store "soon," right alongside its Nexus line of devices, Chromebooks, and digital content.
Google agreed to acquire Nest
for the cool sum of $3.2 billion back in January.
Nest is basically a home-automated enabled thermostat. It is fairly easy to install, Google claims most people can do the job in under 30 minutes whether they have "home improvement" skills or not. If there are problems, Google has enabled an online widget to help you match the wired connections.
Once Nest is connected to your home's HVAC, it then connects to your Wi-Fi so you can control the thermostat remotely via either an Android or iOS app (of course, nothing for Windows Phone) which can be downloaded from the traditional sources. You can also just turn the dial the way you would a traditional rotary thermostat. Nest then learns about your usage and provides prompts via the appearance of a "green leaf" to let you know when you are operating efficiently.
With the app, you can program Nest to do things automatically for you. The ultimate goal is to help you save money on your utilities.
Nest comes with a two-year warranty, is powered by a rechargeable lithium ion battery, consumes less than 50MB of data per month, and will work with about 95% of the existing 24-volt HVAC system connections.
If you buy one today,
Google
Nest will plant a tree for every Nest Learning Thermostat sold today in observance of Earth Day.
source:
Google Play