Google doubles down on Android@Home by purchasing Nest for $3.2B
44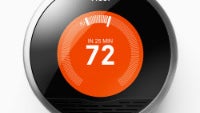 Nest had been best known as being a company founded by iPod creator Tony Fadell, and for building beautiful home devices like the Nest thermostat and carbon monoxide/smoke detectors. Now, they may be on the path to being best known for getting the seemingly stalled Android@Home initiative, because Google has purchased Nest for $3.2 billion.
CEO Google released a statement on the purchase, saying:
Nest's founders, Tony Fadell and Matt Rogers, have built a tremendous team that we are excited to welcome into the Google family. They're already delivering amazing products you can buy right now--thermostats that save energy and smoke/CO alarms that can help keep your family safe. We are excited to bring great experiences to more homes in more countries and fulfill their dreams!
Google has quickly been adding hardware capabilities to its arsenal over the past couple of years, starting with the huge
Motorola acquisition
, and followed recently with multiple
robotics companies
(for Andy Rubin), and now Nest. Nest obviously has the aims to be in the home and create smart products, which has been the plan for Android@Home, although Google hasn't been able to make much headroom on that front. Manufacturers haven't been adopting Android all that fast, so maybe Google is planning to kickstart the market itself.
The actual plans for the Nest team moving forward are unclear, but it has been confirmed that Nest will continue iOS support for its devices, and that Nest will continue to operate under its own brand. It is unclear if it will be kept somewhat separate from Google, like Motorola.