Nest may soon be sold through Google Play
16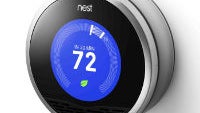 Google recently agreed to spend
$3.2 billion to purchase Nest
and hire the quality designers and engineers of the company. The acquisition hasn't yet been approved, but the idea is that Nest will be taking over as Google's in-house hardware division once the sale of Motorola to Lenovo goes through. Presumably, that means Nest Android devices at some point, but right now the company still only makes a thermostat and smoke detector.
Interestingly, it seems as though Google might be getting ready to start selling the Nest thermostat on Google Play alongside the various Nexus devices, Chromebooks, and digital content. Google had listed a support page which mentioned the Nest being sold in the Play Store and being available in the U.S., U.K., and Canada. Oddly, the link in the support page pointed to the Moto G Google Play edition rather than a broken Nest link, so this listing is even more strange than you'd think.
Of course, the listing has already been pulled, so we have no idea what it all meant. Google agreed to buy Nest back in January, and it was approved by the FTC in February. There is no word yet on what Google plans for the company, but it seems reasonable to assume that it will integrate quite a bit with Android, and maybe even resurrect the Android@Home initiative.