NVIDIA Tegra 4 will come with 72 GPU cores, leaked slide indicates
56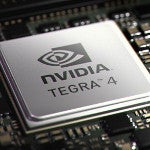 Several weeks ago, we ran a
comparison between four quad-core mobile processors
. Most of the time, the Tegra 3 by NVIDIA was the weakest performer, which actually shouldn't come as much of a surprise since it is made using the older 40nm manufacturing process, while the competition has long stepped into 28nm territory. The upcoming Tegra 4 chip, however, will put NVIDIA back on track as it will most likely rely on four Cortex-A15, 28nm processor cores, backed up by a fifth power-saving companion core to handle the more basic of tasks. But a big leap forward is expected to come in the graphics department as well.
According to this leaked presentation slide, supposedly detailing the structure of the NVIDIA Tegra 4 SoC, the company's next mobile chip will offer 72 graphics cores. All that silicon should deliver six time the raw performance currently offered by the Tegra 3, which has "only" 16 GPU cores at its disposal. The new chip will be capable of handling screens of size up to 2560 by 1600 pixels and will have no troubles recording or decoding 1440p video. In addition, the slide mentions the support of a high-speed imaging chip, USB 3.0, and dual-channel DDR3 memory.
If earlier leaks are to be trusted, the
NVIDIA Tegra 4 should launch during the first quarter of 2013
, meaning that we are likely to hear more details about it during CES or MWC next year. And who knows, we might even be introduced to the first smartphones and tablets that will be powered by the new chip. How it will stand against the existing quad-core offerings, however, such as the Snapdragon S4 Pro or the Exynos series, remains to be seen.